Best Toilets Under $300: Affordable Options For Stylish Bathroom
There are many great best budget toilets under $300 that have received excellent reviews. A reputable toilet manufacturer will design a stylish, efficient, and affordable piece. You should be able to manage your business with the best toilets under $300, 400$, 500$, or $1000. It can be difficult to choose the right budget-friendly bathroom option for your business with all the options.
We read as many reviews as we could and compared the different features of these affordable toilets. We compiled a list of the top budget toilets in this price range by searching the internet and looking through expert and customer reviews.
[amazon box="B003OFA738,B07H781NMC,B07K32DFHS,B07W8S2NLL,B08FLFHBYW" template="list"]
Who Needs The Best Budget Toilet?
Every homeowner should have a functional toilet, regardless of its cost or color. For homeowners who are looking for small-sized toilets that fit in small spaces, the best budget toilets below $300 are ideal. This budget toilet is designed to save water by cleaning the bowl in one flush.
It's important to choose a design that fits in with the modern style of your bathroom. However, it is equally important to ensure it has a strong and durable construction. This will ensure that you don't have to spend money on maintaining or replacing your toilet each time you remodel your bathroom.
The TOTO CST744SL#01 Drake is an elegant design that can accommodate taller people. This commode is ideal for seniors or people with mobility problems (people who have difficulty getting up and down).
This is TOTO's most popular release. It is not only ADA-compliant, but also WaterSense certified. G-Max flushing technology is used to power the toilet, which is much more powerful than other budget toilets. To get rid of a lot of waste, you can flush 1.6 gallons per flush. Simply press the chrome handle on the left side.
To give the user some flexibility in selecting the best seat, the toilet seat is sold separately. This could be an extra expense or better comfort depending on your perspective and what you want in a toilet that is budget-friendly.
The two-piece unit comes as a set. Most of the online customer reviews indicate that most users are satisfied with the packaging and the instructions provided by the manufacturer.
This unit is durable, but it's also powerful and efficient. The construction of the toilet is made from vitreous china, a strong material. This means you get a toilet that is affordable and can be used for many years without needing to replace it.
[amazon box="B003OFA738″ template="list"]
The one-piece design gives your bathroom a contemporary and sleek look. The tramway has a skirted design that makes cleaning the toilet easy. Dual-flushing toilets have a low flow rate and are able to channel waste into the drainage system. WaterSense certification is given to the toilet.
The toilet has a comfortable height. The toilet is comfortable enough to use for those who are older or have mobility issues. The soft-close toilet seat means you don't have any to worry about. The seat does not slam during the night, disturbing people in nearby bedrooms.
Woodbridge has done an impressive job in producing multiple colors for this particular bathroom. This toilet is not only elegantly smooth but also features a glazed bathroom bowl that makes sure all the waste is quickly washed away after each flush.
Woodbridge T-0119 Dual Flush Elongated Toilets are backed by a 5-year limited warranty. This toilet will put your mind at ease.
[amazon box="B07H781NMC" template="list"]
This is the best option for people who want small toilets at a reasonable price that will fit into tight spaces. The How Small Toto fits perfectly in small spaces and powder rooms.
The tramway is skirted. This toilet is so easy to clean.
This small toilet is durable. The siphon flush feature ensures that the bowl is cleaned quickly and soundlessly. It also uses less water because it offers a dual flush option.
This toilet is light-flushable and will help you save money. It makes very little noise when it closes because of its soft close seat.
The small toilet features easily accessible chrome buttons on the tank lid. The toilet's hidden trapway gives it a beautiful appearance. This toilet can be combined with various modern bathroom fixtures to create a sophisticated space.
[amazon box="B07K32DFHS" template="list"]
This basic toilet, either two-piece or coupled, comes with a dual flush system. This is to avoid wasting too much water.
The toilet offers a low flush, which conserves water, as well as a tornado flush option, which ensures that all solids are completely removed from the bowl. Dynamax Tornado has been patented by TOTO.
It works by flushing the toilet 360 degrees. The light flush, on the other hand, uses only 0.8 GPF. TOTO Drake Two Piece Elongated Dual Flush has a ceramic glaze inside its bowl. This prevents waste sticking to walls.
This toilet is the most comfortable because of its long shape. It can integrate with any type elongated seat design. It's also compact in size so you can keep your bathroom clean and organized.
TOTO is an industry leader. The warranty for the toilet is one year.
[amazon box="B07W8S2NLL" template="list"]
[amazon box="B08FLFHBYW" template="list"]
Buyer's Guide For Best Toilet Under $300
These are the top factors to look at when you're looking for a toilet that is affordable for your bathroom.
One-Piece Vs Two-Piece
A one-piece toilet has a tank that is fused to its bowl. A two-piece toilet has a separate tank with the bowl. It can be difficult to transport a one-piece toilet design because the sink and bowl are fused together. They are great for small spaces and can be installed in a much simpler manner.
Shipping a two-piece toilet, however, is easier. Although the installation of two-piece toilets can be more complicated than one-piece ones, they are generally cheaper. Two-piece toilets require more space.
Efficiency
Efficiency is the amount of water required to flush out waste in a single flush. When assessing efficiency, it is important to inspect the toilet's electronic flushing system.
Dual-flush toilets are more efficient than single-flush units. The former lets you do either a partial flush or a full flush. To avoid water waste, you can flush liquids with a partial flush.
If you only have one flush toilet to buy, consider a toilet with a low-per flush rating. This will allow you to significantly lower the water consumption per flush.
You should also consider toilets that have gravity-assisted flushing systems, which use less water than siphonic Jet Systems.
Design
The visual design of the toilets that you are considering is important, even if you have a limited budget. A unit should look good and complement your bathroom decor. Comfortable design and construction should be key features of any toilet. If you have a tiny, you could opt for a corner-toilet design.
Cleaning
Budget toilets are sensitive investments. Hygiene is an important matter. It is not worth investing in a low-cost option that you have to clean. One-piece toilets are easier to clean than two-piece ones. Two-piece toilets have many crevices.
The material is also important. Toilets made from durable, easy-to-clean materials like ceramic and vitreous china are easier to maintain than toilets made of plastic and porcelain. Look for a manufacturer who can provide minimal but effective cleaning requirements.
Size
Because users are not required to bend as much, taller toilets with longer bowls are more comfortable for people over 60 and those with agility problems. These tall toilets might be uncomfortable for children and those with shorter legs. The best option is to find a budget toilet that is affordable and comfortable for all members of your household.
Dimensions
A toilet that is too small for your bathroom can lead to a waste of time and money. Every listing includes the dimensions for the budget toilet. Make sure you measure the space. To avoid costly errors down the line, make sure you carefully read the specifications.
Accessory
Some toilets are sold without the necessary accessories and some come with toilet seats. Others are shipped as an all-in-one package. Even though an all-in-1 package may seem like a great deal at this price, it is usually cheaper to buy some accessories separately.
How To Install A Budget Toilet
If you are new to installing a toilet, hiring a plumber will be a better option. It's possible to make costly mistakes if the toilet is installed by you alone.
Here are some tips to help you install your toilet in your bathroom.
For a snug fit, make sure your toilet is secured.
Verify that pipes are properly connected. Make sure that the wastewater line under your toilet matches the tubing under it.
Connect the water supply line to your toilet. To ensure water flow to your tank, connect your home water supply line or tubing.
Cleaning And Maintenance
As with all home fixtures, your toilet must be clean and well-maintained in order to function properly. You must clean both the inside and the outside of your bowl to maintain a clean bowl.
Do not schedule cleaning on weekends to make it a huge job. Instead, clean the toilet frequently. This is the best option to avoid unpleasant odors in your house and to maintain the unit's functionality.
Toilet bowl cleaner tablets, fresheners, and fresheners will keep your toilet clean. Use a recommended toilet cleaning brush and baking soda to clean your toilet.
Addressing Common Budget Toilet Complaints
The most common concern among budget toilet users is water wastage. We found many reviews. Manufacturers understand this and have created modern toilet designs with single and dual flushing systems. These are new technologies that save as much water as possible in a single flush.
Another common problem is dealing with clogged bathrooms. You can avoid costly toilet problems by investing in low-cost toilets with high flushing power. Even if it uses a powerful flush, a toilet can still perform well.
Benefits Of Budget Toilet Systems
In hindsight, some positive reviews focus on the cost-effectiveness and ease of maintenance of budget toilets. One of the most positive comments I saw was about the sleek design of the small tank toilets. Others also spoke about the efficiency of flushing these budget toilets.
If you shop around, you'll be able to find lovely-looking toilets which flush quickly. These toilets are ideal for small-sized users, despite being quite affordable.
Even the more expensive options flush quickly and look beautiful. They are generally smaller, but many people find them ideal for small restrooms.
The toilets that we reviewed were not as expensive as their more expensive counterparts. However, their functionality is maintained and the performance is excellent. A toilet purchase is not something that you will do often, so make sure to research the market and speak with others before making a decision.
Best Cheap Toilet Brand
We've compiled the top toilets under $300 reviews. There are many things you need to look at when choosing the best toilet. You may have specific requirements that are not included in the above list. Comfort, durability, water consumption, and rim cleaning are the top qualities you should be looking for in a toilet. There are many toilet brands that can be considered the best, as they all meet quality standards. There are many options, which can lead to confusion when making a choice. This is a shortlist.
Top ten toilet brands:
* TOTO
* WOODBRIDGE
* Kohler
* American Standard
This is one of the most well-known toilet brands. TOTO is known for producing high-quality toilets. TOTO toilets have amazing design features and are second to none. This Japanese company is also an automation expert and has created many features-rich automated toilets. This toilet brand has the highest user satisfaction. You will also be pleased with the quality of this brand, just like many others.
Another top distributor of kitchen and bath products in this company. This brand has some of the best and most affordable toilets. WOODBRIDGE is a great choice if you're looking for modern toilets at a low price. WOODBRIDGE, one of the most prominent distributors in America, is committed to delivering high-quality toilet and bathroom materials over a long period. It has many options for you whether you're remodeling or building a new bathroom.
Kohler is the top toilet brand. Kohler began with a different goal, but it gained a lot of popularity after becoming a bathroom fixture manufacturer. They have also produced a variety of high-quality toilets. They are also proud of their dual flush toilets, which come with a triple.
This is the final selection in our shortlist of top toilet brands. American Standard is a market leader in North America for toilet manufacturers. This is due to its long history of operation. American Standard offers a variety of design options. American Standard offers a variety of options for toilets, including fully automated or simple models.
This was for the shortlist of top toilet brands. We hope we didn't forget your favorite brand.
What to look for when choosing the best toilet?
Choosing a toilet may seem like a simple task, but there are actually a lot of factors to consider before making your purchase. Toilets come in a wide range of styles, materials, and prices, so it's important to do your research to find the one that best suits your needs. In this blog post, we'll break down everything you need to know about choosing a toilet so that you can make an informed decision for your home.
When choosing a toilet, the first thing you need to decide is what style you want. Toilets come in two basic styles: one-piece and two-piece. One-piece toilets are made from a single piece of porcelain, which gives them a sleek, modern look.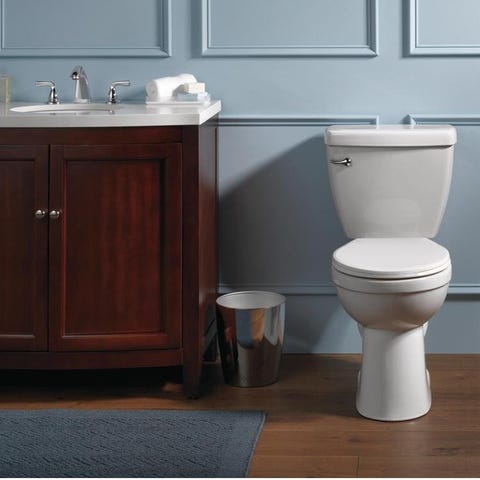 Two-piece toilets are the more traditional style and are made from two separate pieces (the bowl and the tank). Two-piece toilets are generally less expensive than one-piece toilets, but they're also more difficult to clean because there are more nooks and crannies for dirt and grime to accumulate.
The next thing to consider is material. The most common toilet materials are ceramic and porcelain. Ceramic toilets are less expensive than porcelain toilets, but they're also more likely to crack or chip over time. Porcelain toilets are more durable and easier to clean, but they come with a higher price tag.
Finally, you'll need to decide on a budget for your new toilet. Toilets can range in price from around $100 to $1,000 or more, so it's important to set a realistic budget before you start shopping. Once you've considered all of these factors, you'll be well on your way to finding the perfect toilet for your home!
There's a lot to think about when choosing a toilet for your home. But by taking into consideration factors like style, material, and budget, you'll be able to find the perfect one for your needs in no time!
FAQs
Is investing in water-saving toilets cost-effective?
Low-flush
toilets save water
per flush and over the long term. Water-saving toilets, regardless of their gravity- or pressure-assisted models, will significantly reduce water consumption by directing waste away from your home. You can save money quickly by installing a low-flow toilet.
Which is better, 1-piece or 2-piece toilet?
Both types of toilets perform the same in terms of performance. The interiors may also look identical, particularly if they are made by the same manufacturer. If they are in the same price range, both types of toilets will be efficient and have equal flushing power.
Is an elongated toilet better than a round toilet?
Is the installation easy?
Wrapping Up
It's now easier to find the right budget toilets for your home. Before you buy, it is important to evaluate your needs and carefully review the specifications of each toilet on our list.
The 2-Piece Ada Toilet is our top choice. The toilet is made from vitreous china, which is one of the strongest materials in the world. You won't need to worry about replacing your toilet or remodeling your bathroom for many decades. It also offers high-end features at a low price.
Natasha is the owner of Smart Home Bath, a company that specializes in providing innovative and convenient home automation solutions. With a background in electrical engineering and a passion for making life easier through technology,
Natasha founded Smart Home Bath to help homeowners upgrade their living spaces and improve their daily routines.
Over the years, Natasha has become an expert in the field of smart home technology, and her company has grown to be a trusted source of high-quality products and expert installation services.
Whether you're looking to add voice-controlled lighting, automated temperature control, or any other smart home feature, Natasha and her team at Smart Home Bath have the knowledge and expertise to help you get the most out of your home automation system.
So, if you want to make your home smarter, Natasha and Smart Home Bath are the perfect people to turn to.