5 Best Low Profile Toilets (Space Saving)
After reading our guide, you're sure to find the best low-profile toilet for your bathroom. Based on the User- 'KOHLER 3597-0 San Raphael' this product doing amazing.
Let's get started!
What is a Low Profile Toilet?
These toilets tend to be shorter in height and narrower in width than conventional toilets, so they can fit into smaller spaces in a home due to a lower amount of clearance in the bathroom.
They also often have a smaller water surface area, which means they use less water when flushing.
In the end, all that matters is that these best low-profile toilets could save you space and money, while still providing you with good performance at the same time!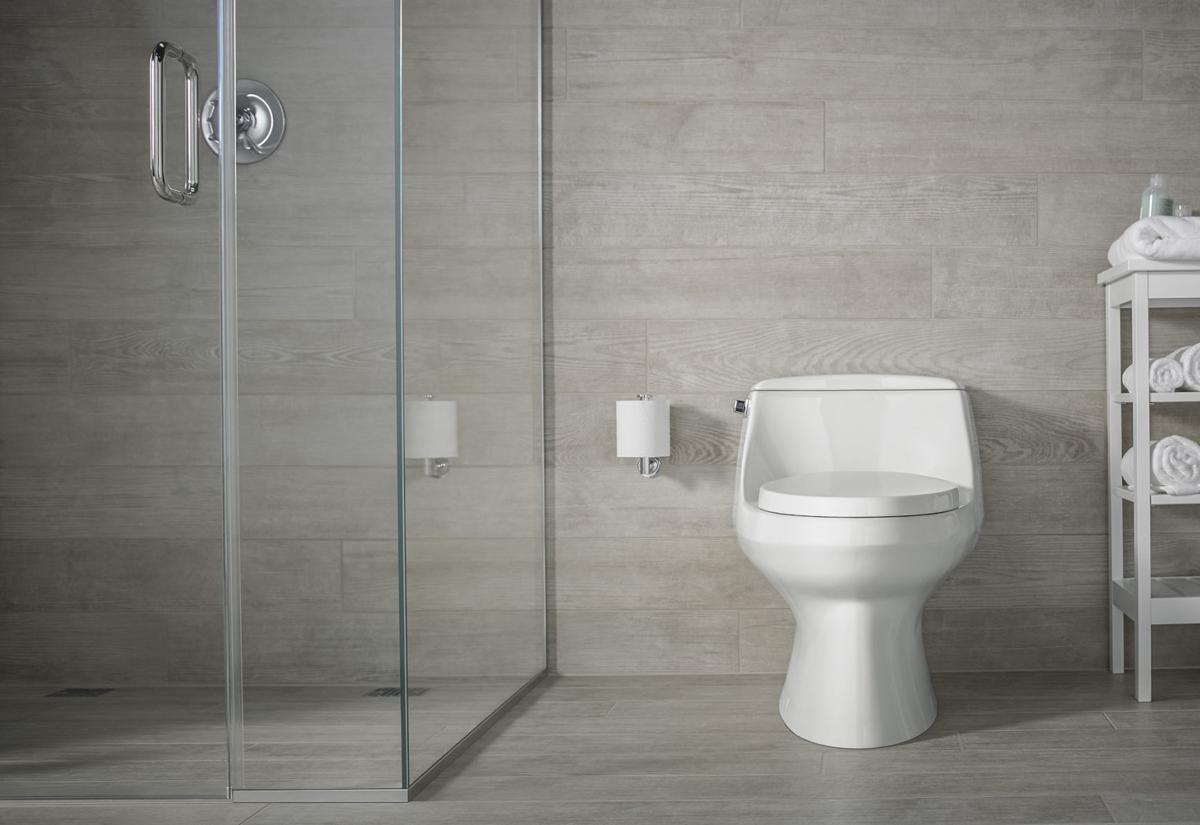 Q: We live in an older house that has the original plumbing fixtures in the bathroom. It now looks like the toilet is in need of being replaced. Additionally, because of the adjustable shelving system above the toilet, it has an extremely low profile toilet tank. Do they still make low tank toilets? What should I keep in mind when I order this kind of toilet? – Carl, Washington state.
Ans: Yes, they're readily available. Low-profile toilets are typically single-piece toilets, and therefore they are in the category of low-profile toilets.
Before you take out the toilet you have been using, measure how tall from floor level to bottom of the initial shelf to make sure that the new toilet you select will fit into the vertical space.
The choice of a round-front or elongated bowl can also affect vertical space. For many low-profile toilets, you might be interested in buying a model with a pressure-assisted flush. These types of toilets use pressured air to create an efficient flush while conserving water.
If you keep these tips in mind I'm sure you'll find the ideal low profile toilet.
Who Needs A Low Profile Toilet?
The ideal toilet for your house depends on the space in the bathroom and if any of your family members have physical needs in addition to the height average for everyone in the family.
A low-profile toilet is best suited for bathrooms that are smaller and have limitations on height, like when you need the tank to be placed under the counter or cabinet. This guide is focused on toilets with low-profile designs that have high-quality bowls, but smaller tanks that can be placed under the shelves in bathrooms or in rooms with room limitations.
However, the term "low profile" also refers to smaller toilets with smaller bowls to accommodate small children and smaller adults. If that's what you're searching for, take an eye on this KOHLER K-3722-0 San Raphael Toilet.
But, the majority of low-profile toilets measure between 17 to 19 inches in height. While there are toilets that go-between and below this range, it's all about selecting the best choice for your needs. We've reviewed the top low-profile toilets that will help you make a purchasing choice.
5 Low Profile Toilets with Low Height Toilet Tank
[amazon bestseller=" Low Profile Toilets" items="5″ template="table"]
Other toilet brands that are top of the line include Toto or American Standard also have low profiling toilets but they are higher and wider than those made by Kohler.
However, in recent times new low-cost models from smaller toilet manufacturers like Winzo, Aqua magic, Dometic, Woodbridge as well as Swiss Madison have become best-selling models in the low profile segment on online stores such as Amazon.
It is the Kohler K-5172 San Souci is another fantastic toilet designed specifically for those with short legs. It's a great size and shape that offers maximum comfort to both short and tall people.
The shape, material, and design permit ease of cleaning, without expensive tools or materials. It comes with the Kohler K-4008 seat with a grip-tight design which prevents accidents and provides the most comfortable experience.
[amazon box="B00SOVRMF8″ template="horizontal"]
The toilet is equipped with Aqua Piston flushing Technology, which consumes 1.28 GPF (gallons of water per flush). This feature can save up to 20 percent of the water used which can lower your water bills. It also flushes faster as well as quieter and quicker than many regular 1.6 GPF models that consume more water.
The Kohler K-5172 comes with an area-saving design since it measures 30.2 inches by 20.8 and 26.7 inches. The toilet is an elegant and sleek single-piece design that is a scream of class and luxury.
Overall, it's a great toilet. Kohler K-5172 is a great toilet available in nine shades. Because your toilet is among the most frequently used fixtures at home, it's going to be nice to have something like this for you to lounge in luxuriousness.
[amazon box=" B00SOVRMF8 " template="list"]
Features:
Comfort Height feature.
Durable canister design.
AquaPiston canister that allows 360-degree flow of water.
K-4008 seat with a grip-tight seal.
What We Like:
Dimensions 30.3 26.7 inches.
It has a compact and oval shape.
It utilizes a highly efficient water-saving system.
Low-height features provide the most extreme level of comfort.
Low profile design.
It ensures an unrestricted, leak-free performance.
[amazon box=" B00SOVRMF8 " template="list"]
Its Swiss Madison Well Made Forever SM-1T803 One-Piece Toilet is another popular low-profile toilet on Amazon. It is priced at a fair price and looks fantastic. Additionally, the flushing mechanism does an excellent job of removing all the debris in one flush.
Even though the seat of the toilet is quite thin, you are able to buy a seat that you like to increase comfort and guarantee long-lasting durability. It is fortunate that the seat measures 18 inches long at its widest point it is the usual size for toilets with elongated designs.
[amazon box="B074WGB757″ template="horizontal"]
Features:
Dual flushing system.
1.28 Gallons per full flush.
0.8 Gallons per Half-Flush.
Eco-friendly.
Meets EPA guidelines.
WaterSense certified.
Elongated bowl.
Comfort height.
Soft-close lid.
What We Like:
The toilet is equipped with all the tools to install it.
It comes with two flushing systems.
It is a stunning flushing system that helps conserve water.
It's easy to take your toilet's seat off its mount.
It is a height that is comfortable which makes it ideal for people who are elderly or have mobility issues.
Compact.
Modern and quirky.
Easy to keep.
The Winzo WZ5024T modern One-Piece Toilet is the latest low-profile design from a brand-new toilet brand named WinZo. I could not find any reviews or ratings online for this low-profile WZ5024T toilet since it was launched just in July of 2020. We'll need to wait and watch how it performs over the long term. As with other brands of new toilets, the price is certainly reasonable.
[amazon box="B0744CTXW8″ template="horizontal"]
The year 2021 is when Winzo has also launched a number of other models. One is the 22.75-inch depth toilet that has been deemed to be the most compact depth toilet available to be sold within the US.
Additionally, they have a depth toilet that measures 23 inches that is also the shorter depth toilet. Both toilets are selling out like hotcakes and are receiving positive reviews and reviews online.
The KOHLER 3597-0 San Raphael is perhaps the most compact toilet in the category of low-profile toilets. Its height is only 21 1/2″ and uses only 1.0 GPF. The Elongated Toilet is low enough that you could confuse it with a standard RV toilet.
The Pressure Lite flushing system compresses water into its small toilet tank by using the main pipe pressure.
When you push the button to flush, it lets the pressured 1.0 gallon of water into the bowl, removing all the waste with one flush.
[amazon box="B001F7KM5A" template="horizontal"]
Features:
30-inch L by 19-1/2-inch W by 21-1/2-inchs.
Technology for flushing pressures using Pressure Lite.
Elongated bowl.
12-inch rough-in.
Trip lever in Polished Chrome.
French Curve Quiet Close toilet seat.
Quick Release feature.
What We Like:
Available in various colors.
The tankless design provides an aesthetically pleasing and lower appearance.
The toilet seat that is included in the package comes with a quiet-close system.
A powerful system for flushing incorporating pressure Lite flushing technology guarantees efficient flushing.
WaterSense certified.
The bowl's length is extended to ensure an enjoyable sitting experience.
[amazon box=" B001F7KM5A" template="list"]
Its WoodBridge Dual Flush T-0018/B-0735 One-piece Toilet is the most sought-after and most well-liked low-profile toilet. Its 22-inch height is the second-lowest height of low-profile toilets that are available in the marketplace.
The toilet is simple to clean and comfortable and is an excellent value. It comes with all needed certifications. It's CSA High-Efficiency, UPC, WaterSense, and UPC-certified, which means you save water and money. The design is an elongated strap that gives it a stylish appearance and makes it easy to clean. The high-end closing seat comes with strong stainless steel hinges for the seat.
[amazon box="B07S7N2GJX" template="horizontal"]
Its Comfort Height feature provides chair-height seating, which makes sitting and standing simple for the majority of adults. The fully-glazed dual-flush system delivers powerful and extremely silent flushing that is free of leaks or obstructions.
The set includes a toilet with floor bolts high-end wax ring, an installation guide, and an easy-closing toilet seat. The toilet is simple to remove in case you want to clean it or tighten it after a couple of years of usage. Overall, the WoodBridge T-0018 is a high-quality and stylish model.
Features:
Dimensions 28.4 * 14.5 (22 inches).
Siphon flushing design.
A long Height that is comfortable.
Toilets Water-Sense Certified.
What We Like:
The perfect height for a comfortable chair for adult or child.
Silent with a powerful system of siphon flushing.
Luxury modern design and distinct design.
High-end closing seat made of durable stainless steel hinge.
It is easily installed.
Completely stain-free and free of clogs.
[amazon box=" B07S7N2GJX" template="list"]
Lowest Height Toilet with Low Profile Tank
The toilet that I found is a Kohler. This is the high 21-1/2 inch Kohler k-3597-0 San Raphael Comfort Height Pressure Low 1.0 GPF Long-Last toilet ( Check It Out ). The toilet is low that it looks like an RV-style low-profile toilet.
It makes use of the Pressure Lite flushing technology that compresses water into its tiny toilet tank, using the pressure of your pipe. The compressed 1.0 Gallon of water is then released after you flush the tank. At the moment this is the smallest height toilet that you can find. If it gets any longer, you'll need an empty toilet.
Be aware that low-profile tank toilets made by the best three manufacturers of toilets such as Kohler, Toto, and American Standard are expensive.
Therefore, many choose moderate-priced low-tank profile toilets made by other brands, such as Woodbridge or Swiss Madison.
Low Profile Toilet for Small Bathroom
The toilet with a short profile that has the lowest depth on this listing is the 24- inches height KOHLER San Souci Low Profile Compact Toilet that has a circular front (Check at Amazon ). Although its size is 24.2 inches, however, its depth is quite small, at 25.6 inches. This makes it 2 and 5 inches shorter than other toilets with a low height.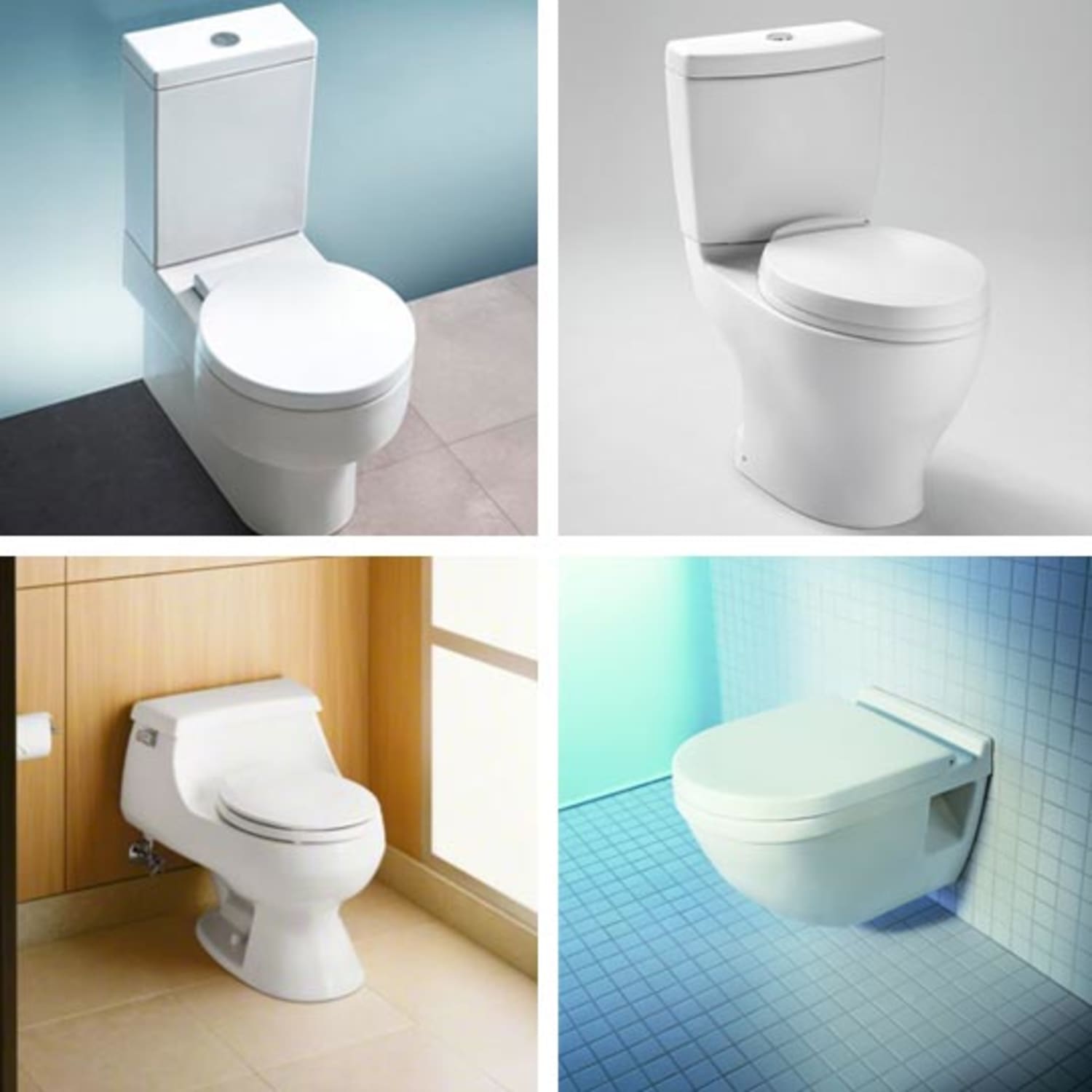 The San Souci round is only 24 inches from the floor up to its top. It is 31 inches high when the seat is open. If you have a small bathroom or if you're looking for a way to make space for it then you may want to consider this round seat model, as it takes up less space, specifically with the seat raised.
Low Profile Toilets with Low Height Toilet Bowl And Seat
The majority of low-profile toilets that are listed above are low-profile comfortable height toilets. Therefore, they come with the tallest 'comfort' height bowl and seat height at around 17 inches which makes it more suitable for large older individuals and the majority of adult Americans.
But, if you're looking for the standard height toilet that has a bowl that is lower than 14 or 15 inches as well as a 15 or 16-inch seat height for a smaller person or children's use, then it's better to select a low profile toilet that has an average seat and bowl that are high. There are two normal-height seats and low-profile toilets that are listed above. They are the KOHLER K-3722-0 San Raphael Toilet and the KOHLER San Souci K-4007-0 Toilet (Round Bowl).
KOHLER K-3722-0 San Rafael Toilets have a bowl size of fifteen inches. The seat's thickness is 15 inches. its seat height is 16 inches in height from floor level to top.
KOHLER Sansouci K-4007-0 Toilet comes with the standard size at 15.25 inches. The seat's thickness is 15.25 inches. the height of the seat is approximately 16.5 inches.
It is the Kohler San Souci round toilet is the most popular and less costly of the two-seat toilets with a low profile.
Kohler Low Profile Toilets
As we've seen, there are many Kohler shorter profile toilet models. These toilets have been the most popular choice for elegant, elegant big and small bathrooms for a long time. I briefly discussed each Kohler toilet model in the past but I won't go into detail here.
I'd like to add here the general impression I got after having a look at Kohler as well as other low-profile toilets, I join many of those who believe that Kohler toilets are among the top low-profile toilets available on the American market currently.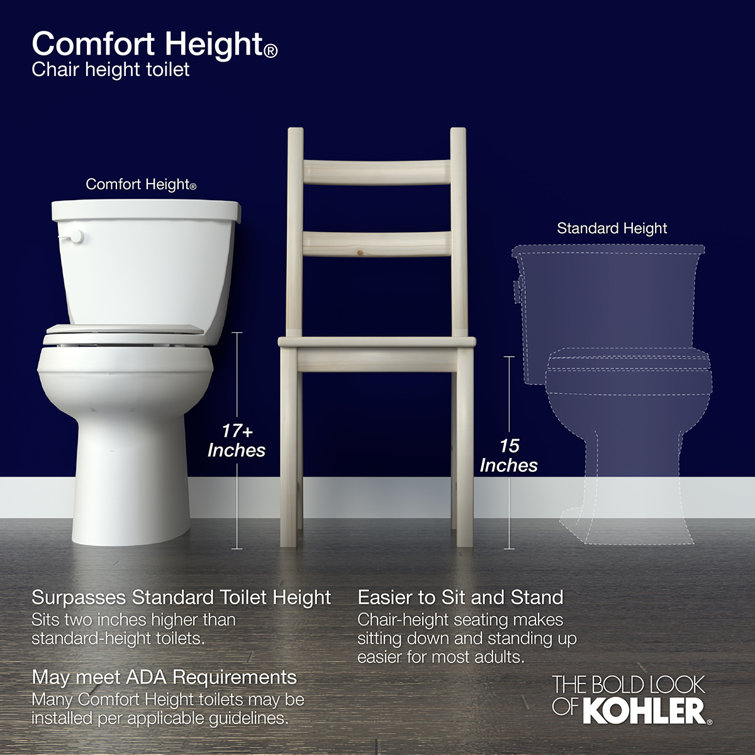 Kohler toilets are specifically evaluated in terms of comfort, quality, and easy cleaning. While they're high-end and expensive toilets, a lot of customers claim that Kohler toilets provide value in terms of value.
American Standard Low Profile Toilets
I discovered two low-profile toilets in American Standard models. They're a little larger than the others mentioned here. But, they are the best price for a brand with a good reputation.
The most popular and most sought-after American Standard low profile toilet is the American Standard 2961A104SC.020 Colony Right One-Piece Height low profile Elongated toilet (Amazon link).
Another American Standard model is the Fairfield 2862056.020 1.6 GPF One-Piece Elongated Toilet (Check at Amazon).
They are American Standard models are rated top for their simplicity of installation, sheerness, and sturdiness as well as the ease of cleaning.
TOTO Low Profile Toilets
TOTO is the most prestigious toilet manufacturer in America. They have excellent toilets with stylish design and excellent flushing performance. But, unfortunately, the number of Toto low-height toilets within the U.S.
The current flagship Toto models with a low profile include The 25.5 inches in height Toto MS644114CEFG#01 Carolina-2 High-Efficiency toilet ( Amazon page). It's an excellent toilet, but it comes with a higher cost too.
Toto Carolina 2 toilet can also be a Toto Unifit Toilet. Toto Unifit toilets are ready to be mounted on rough-ins of 12 inches. However, they can be mounted on toilets with 10-inch or 14-inch rough using a particular adapter, called The Toto Universal adapter. (I've covered more detail about this in the 10 rough-in section for 14" below.)
Toto also had a low profile model that was called the TOTO MS864114#01 Supreme Elongated One Piece Toilet. However, at the time I looked it up, it was no longer available.
10 & 14 Inch Rough-in Low Profile Toilets
What about toilets with low profiles that can be used for rough-ins between 10 and 14 inches?
The only toilet with a low height I have seen that fits the 10 or 14 inches rough in size is Toto Carolina II High-Efficiency Toilet (Amazon link) that uses a Toto Unifit rough-in adapter. To put this Carolina II toilet on a rough that is 10 or 14 inches you will need to purchase either a 10", or 14" Toto Unfit rough-in adapter. Here's an Amazon.com link for the 10″Unfit Adapter advertisement as well as the 14″Unfit" Adapter on Amazon"#Ad.
But if you absolutely want to, you could install any of the toilets listed below on a roughing of 10 inches with a 2-inch offset toilet flange ( check 2′ offset flanges in the Amazon #Ad).
An offset flange is utilized to offset or decrease the size of a toilet's rough-in. An offset of 2 inches can transform your routine into one roughing of 12 inches, which allows you to put in any toilet with a 12 roughing. (Note that some regions and codes for building do not allow using offset-flanged toilets.)
For rough-ins of 14 inches toilets, you can choose any low-profile model mentioned here. But since these are rough in toilets with 12 inches that means you'll have two inches of the gap on the back of the toilet, in between it and its wall.
If you don't want gaps, you can convert the rough size from 14 inches to 12" roughing by using a two-inch off-set toilet flange.
Low Profile Toilet Vs Low Height Toilets
Low profile toilets can also be often referred to as low height toilets. But, calling them low-height toilets could be confusing since 'toilets with low-height seats' are often referred to by the name of low-height toilets.
If you are discussing low height toilets bear in mind that they could be a reference to toilets that have low height bowls, which are suitable for small children and people with short legs. (For the best toilets that have a low seat height, check out my article here).
In most cases, both kinds (low seats and toilets with low tanks) within low-height toilets come with their own distinct functions, characteristics, and factors to take into consideration when purchasing one of them.
In this article, 'low-height toilets' refers to the toilet that has an extremely low height tank, and consequently a short overall height toilet.
[amazon box="B00LPJ14PU" template="horizontal"]
A majority of low-profile toilets have a higher Comfort Height seat, which is ideal to use for elderly, tall adults, and those with knee issues.
However, if you're looking for an ultra-low profile toilet that has lower seat height look into the KOHLER K-3722-0 San Raphael Toilet ( go to Amazon.com for the #ad). It has a smaller normal height seat that is around 15 inches. (Other toilets on this list offer comfort height that is 17+ inches.)
Buying Guide For Low Profile Toilets & Low Height Toilets
Selecting a low-profile toilet or a high-profile one for your home will depend on many factors, including your individual preference, the space available, and the heights of those living in your house.
Cost is another aspect you should consider when making purchases of this magnitude. While choosing a high-end toilet does not guarantee greater quality and durability. This is a helpful guide to follow to help you select the best low-profile toilet.
Advantages Of Low Profile Toilets
Low-profile toilets come with a much higher elevations than conventional toilets, but with much smaller tanks. These toilets save the counter's vertical space and can put them on top of the shelf.
The addition of 2-to-4 inches the normal height of toilets will allow elderly people to use them with less stress on their knees since the knee is at a 90-degree angle. Physically challenged people benefit as well from this special aspect of a low-profile bathroom because the body is in a more natural posture.
In addition, it is true that not all family members are comfortable with the standard toilets. So, when it comes to buying toilets, the majority of families put emphasis on the larger members of the family.
There are a variety of low-profile toilet models you can pick from when looking for sleek, modern bathroom styles. Explore our wide selection of luxurious bath items that can completely transform the appearance of your bathroom. Kohler particularly offers a broad selection of high-end low-profile toilets that you must think about.
[amazon box="B004PULVOK" template="horizontal"]
In the majority of cases, low-profile toilets can be purchased as single-piece models which is why you should stick to that option. Be sure to determine the size of your previous toilet model from bottom to lowest of the counter prior to removing it for replacement.
This will make sure that the new one that you pick will be a perfect fit for the space vertically. It is also important to think about the possibility of a round-fronted or elongated bowl to make sure that the new one will be able to fit into the space horizontally.
Standard Toilets Vs. Low Profile Toilets
Apart from the height, there are other distinctions between a low-profile toilet as well as a normal one. Also, the similarities between both models could influence the choice you make.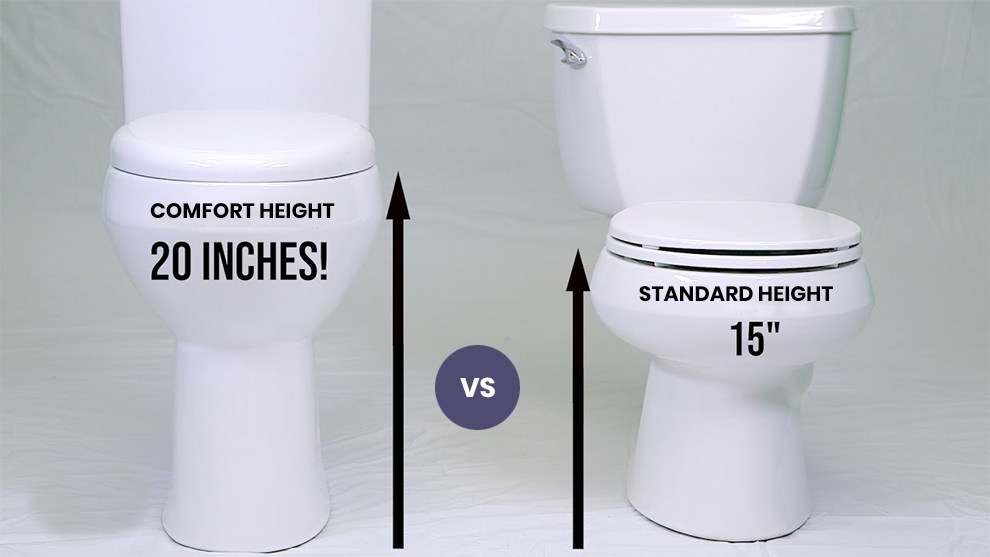 Appearance
Typically, the colors of both low and standard toilets tend to be in white or beige. While there are many other colors you can choose from, however, they are generally not popular and are scarce.
Although standard toilets can be found in either one-piece or two-piece units the low-profile toilets are generally single-piece models. The primary reason for one-piece toilets is to manage space. But, the flushing options of the two toilets are comparable.
Squat Position
When using the standard toilet, your hips are directly below the knees while you are squatting. The rectum-anus posture in this position ensures the best emptying of your bowels which is a characteristic required by those suffering from constipation.
This characteristic that is standard to the toilet provides its users an advantage in comparison to low-profile toilets. But, you can find low-profile toilets, with taller bowls, but smaller tanks.
Height
Low-profile toilets that measure from the floor to the seat are generally around 17 inches tall, and standard toilets are about 15 inches.
Children are more comfortable using regular toilets because of their normal, comfortable height. However, taller people would prefer the low-profile toilet due to the greater height.
One-Piece Low Profile Toilets Or Two-Piece Low Profile Toilets
Toilets with low-profiles are rarely two pieces. This means that the toilet bowl and tank do not have to be separate but are connected as a single unit. As a unit that is compact facilitates installation and maintenance.
In contrast, a two-piece bathroom includes a bowl and tank separate from one another but is equipped with connections to supply water between the tanks and the bowl. The choice between a single-piece and a two-piece toilet is an individual preference.
Decision Relating To Flush Options
Every toilet is designed to flush solid waste in the most efficient methods and ways. Anyone who travels regularly will likely be aware of the various flush options available to toilets. There are three common alternatives for toilet flushes.
1. Gravity Flush
Toilets with gravity are the ones typically used in commercial and residential buildings because of their ease of use. The advantages of gravity are used in this instance. The water that comes out of the tank is directed into the bowl at a speed comparable to gravity. Most likely, you'll consider and favor toilets with gravity flushes because of their low cost and the simplicity of their installation.
2. Tankless Low Profile Toilets
The other unique type of toilet with a low profile that you will see on markets can be described as a one-piece tank toilet. The toilets do not contain tanks. The water for flushes is drawn by the line. In the case of apartments in which there is a flow of water from the pipe that is not high the tankless toilet is not recommended.
Although gravity toilets aren't as efficient in terms of space management, a tankless toilet is a great way to save bathroom space. In addition, the absence of a tank in the toilet allows for the design of a smaller and less bulky bathroom.
3. Pressure Assisted Toilets
If you're looking for toilets that take only a small space from your bathroom but have unparalleled efficiency and efficiency, then a toilet with an integrated compression tank is an excellent option.
In conjunction with the conventional water tank, the compression tank pulls water out of the bowl at the same speed that other toilets do not offer. Toilets with pressure-assisted tend to be more costly than regular flushing systems.
Low Profile Vs. Low Height Toilets
Low-profile toilets can be referred to with the name of low-height toilets. However, calling them low height toilets may cause some confusion as toilets with seats that are low in height are called low-height toilets.
When it comes to low-height toilets, keep in mind that they could also refer to toilets that have low-height bowls which makes them ideal for people who are small and for children.
In general, both low-seat, as well as low-tank toilets, are both parts of the category of toilets with low heights but each has its distinct uses, requirements, and features. In this case "low height toilets" refers to a toilet with tanks that are low in height, that is a general short height unit.
A lot of the low-profile bathroom models that we've highlighted here feature tall Comfort Height seats, which makes them ideal and suitable to use for seniors, grownups, and those who have knee issues.
If you're looking for an affordable toilet with a lower seat height, think about this model: KOHLER's model K-3722-0 San Raphael Toilet. It has a smaller normal height seat that measures around 15 inches. Other toilets with the low profile mentioned here have a comfort-height seat of 17 inches.
[amazon box="B00LPJ14PU" template="horizontal"]
Factors To Consider Before Purchasing A Low Profile Toilet
Low-profile toilets come in various variations. As with standard toilets they are constructed to accommodate the tastes of various consumers. In addition to being of good quality, there are other aspects driven by personal tastes and preferences, which we'll discuss in the following paragraphs.
1. The Shape Of The Bowl
Low-profile toilets can have an elongated or round bowl. Toilets with an elongated bowl have toilet seats that are oval-shaped and you'll likely feel more comfortable in an elongated toilet rather than one with a round shape.
2. Speed Of Flush
It's not ideal to have a toilet with a low profile that requires users to flush it multiple times following use. It's also not a toilet that is marketed as a water-saving toilet but will only get rid of solid waste after numerous flushes.
A gravity-feed low-profile toilet typically flushes out wastes easily because of the higher location of the tank when compared to the typical toilet. However, it is recommended to purchase additional components along with the toilet to make the tankless version of this type of toilet to increase the strength of flush.
3. Installation Type
The choice for your toilet will eventually be between a floor-mounted one or a wall-mounted model. Floor-mounted toilets are the most common type are what you'll probably find on the market. In addition, as they are the standard type of toilet, people like them.
Wall-mounted toilets are simple and use less space. Instead of being placed on the floor, they are attached to the wall. The drawback of this type of design of a bathroom is they're expensive and require an extensive installation procedure.
4. The Noise From Flush
If a toilet is flushed the toilet could make a noise. It is a good thing that some toilets make minimal or no sound. They are classified as quiet flush. But, even if advertised as quiet flush toilets, it is important to look at the opinions of other customers.
Frequently Asked Questions (FAQs)
Final Thoughts
After reading this article and review We hope that you will be able to make a sound decision and select the best low-profile toilet for your house. Our top choice is Swiss Madison SM-1T803BQ. It is one of the slimmest high toilets in low-profile and is reasonably priced.
Another great option to consider is WoodBridge Dual Toilet with Flush T-0018/B0735, especially in the event that price is not an issue for you. The most important thing is you choose a product that is perfect for your household requirements and budget.
Natasha is the owner of Smart Home Bath, a company that specializes in providing innovative and convenient home automation solutions. With a background in electrical engineering and a passion for making life easier through technology,
Natasha founded Smart Home Bath to help homeowners upgrade their living spaces and improve their daily routines.
Over the years, Natasha has become an expert in the field of smart home technology, and her company has grown to be a trusted source of high-quality products and expert installation services.
Whether you're looking to add voice-controlled lighting, automated temperature control, or any other smart home feature, Natasha and her team at Smart Home Bath have the knowledge and expertise to help you get the most out of your home automation system.
So, if you want to make your home smarter, Natasha and Smart Home Bath are the perfect people to turn to.