Tips for An Appealing Bathroom Renovation
Keep it clean – When it comes to your bathroom, Simplicity is key. Avoid adding too many elements or Overcrowding the space. Stick to a minimalistic approach and you can't go wrong.
Let there be light – A well-lit bathroom creates the illusion of a larger space. So, take advantage of natural light by installing windows or skylights. If you don't have access to natural light, make sure to install adequate lighting fixtures.
Go neutral -Neutral colors are timeless and provide a calming effect that is perfect for a bathroom. By sticking to neutrals, you won't have to worry about your bathroom going out of style anytime soon.
Add texture – Another way to add interest to your bathroom is by incorporating textured elements into the design. This can be achieved through the use of tile, stone, or even wood accents.
Consider functionality – When renovating your bathroom, it's important to consider how the space will be used on a daily basis. This will help you determine the layout and function of the room. For example, if you have a small family, you may want to incorporate a double vanity into the design.
Choose quality materials – In order for your bathroom renovation to stand the test of time, it's important to use quality materials that are built to last. While this may mean spending more money upfront, it will save you money in the long run as you won't have to replace items as often.
Don't forget storage – One common mistake people make when renovating their bathroom is forgetting about storage. Be sure to include plenty of storage options in your design so that everything has a place and the room stays clutter-free.
Invest in finishes that resist water – Since bathrooms are high-moisture areas, it's important to invest in finishes that won't be damaged by water or humidity. This includes things like waterproof paint, mold-resistant caulk, and mildew-resistant grout. Additionally , make sure any wood finishes are properly sealed so they don't warp over time.
Pay attention t o details – The little things can make a big difference in the overall look and feel of your bathroom. So, don't overlook details such as hardware, towel racks, and light fixtures .
Work with a professional – A professional contractor can be invaluable when it comes time to renovate your bathroom. They can help with everything from design and planning t o material selection and installation . renovation ,appealing ,Bathroom ,Simplicity ,crowding ,key ,Neutrality , effective designs , functionality ,clutterless space.
What adds most value to a bathroom?
When it comes to adding value to a bathroom, there are a few key features that homebuyers look for. First and foremost, they want to see a clean and well-maintained space. This means that the fixtures should be in good condition, the tile should be free of grime, and the floor should be freshly mopped. In addition, potential buyers will also pay attention to the layout of the bathroom.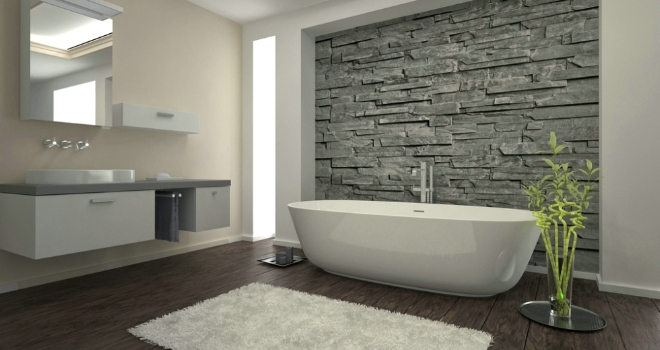 A well-designed bathroom will have ample storage space, a spacious shower or tub, and plenty of natural light. Finally, potential buyers will also appreciate stylish finishes, such as updated hardware or a new coat of paint. By keeping these factors in mind, you can ensure that your bathroom adds significant value to your home.
What should I pick out first in a bathroom remodel?
One of the first things to consider when remodeling a bathroom is the layout. If you're happy with the current layout, then you can focus on updating fixtures and finishes. However, if you're planning to make changes to the layout, then it's important to decide what your priorities are.
For example, do you need a larger shower? Or would you prefer a double sink? Once you have a clear idea of your needs, you can start making selections for fixtures, tile, countertops, and other finishes. Keep in mind that bathrooms are typically small spaces, so it's important to choose materials that are durable and easy to clean. With careful planning and attention to detail, you can create a stylish and functional bathroom that meets all of your needs.
How do you modernize an outdated bathroom?
One of the most important rooms in any home is the bathroom. Not only is it where we start and end our day, but it's also a place where we can relax and unwind. However, many bathrooms are outdated and in need of a makeover. If you're thinking of modernizing your bathroom, there are a few key steps you can take. First, consider updating your fixtures. This can include everything from your sink and toilet to your showerhead and faucets. Not only will new fixtures add a touch of luxury to your bathroom, but they can also save you money on your water bill.
Next, add some storage. Modern bathrooms are all about functionality, so adding shelves or cabinets can help you keep your space organized. Finally, don't forget the details. Something as simple as new towels or a new shower curtain can make a big difference in the overall look and feel of your bathroom. By following these tips, you can easily modernize an outdated bathroom and create a space that you'll love spending time in.
Conclusion
So, whether you're looking for a quick and easy fix or are considering a full-scale renovation, these tips will help you create an appealing bathroom that is both stylish and functional. By following our simple advice, you can have the perfect bathroom in no time!
Natasha is the owner of Smart Home Bath, a company that specializes in providing innovative and convenient home automation solutions. With a background in electrical engineering and a passion for making life easier through technology,
Natasha founded Smart Home Bath to help homeowners upgrade their living spaces and improve their daily routines.
Over the years, Natasha has become an expert in the field of smart home technology, and her company has grown to be a trusted source of high-quality products and expert installation services.
Whether you're looking to add voice-controlled lighting, automated temperature control, or any other smart home feature, Natasha and her team at Smart Home Bath have the knowledge and expertise to help you get the most out of your home automation system.
So, if you want to make your home smarter, Natasha and Smart Home Bath are the perfect people to turn to.
Last update on 2023-06-29 at 08:28 / Affiliate links / Images from Amazon Product Advertising API